Abstract : This paper introduces the characteristics of waterborne coating and the selection and role of the main components in the development process. From the aspects of system type and curing mechanism, the research progress and problems of aqueous coating oil are summarized. The best formulation and main technical indicators, and some applications of waterborne coatings are discussed.

Key Words: Waterborne Varnish; Environmental Performance; Development; Research Progress; Application

Nowadays, environmental protection has been increasingly valued by governments of all countries in the daily life. Environmental protection has become an important part in the field of packaging and publishing. Nowadays, the pollution of printed matter is a very serious problem facing the packaging industry. Varnish is mostly a solvent-based product. After printing, certain carcinogenic substances (solvents) still have long-term threats to human health. People strongly urge that organic solvents be gradually reduced until they are cancelled. Therefore, in order to find an alternative product, it is necessary to develop a high quality non-organic solvent type coating oil. Water is a cheap and pollution-free residual solvent. Therefore, the development of environment-friendly waterborne varnish has attracted great attention both at home and abroad, and it has a promising future.

1 Characteristics of Waterborne Varnish

Varnish is also known as Dispersion Coating. It can be divided into three types: solvent type, water-based type, and active dilution type. Solvent-based varnish contains a large amount of organic volatiles (VOC), which poses a serious hazard to human health and environmental protection, and it also has certain fire hazards. The active dilution type coating oil has fast curing speed, good film forming performance and excellent gloss, but adding more low molecular weight thinners during construction, the film forming process is difficult to control, and there are also certain pollution problems to the environment and the constructors. Some raw materials also have higher prices. Waterborne varnish is a water-dispersed glazing coating developed on the basis of solvent-based varnish. With water as the solvent, its best advantages are odorless, non-toxic and non-environmental. It can be fundamentally improved. The production environment promotes environmental protection and labor protection. Waterborne varnish has good film-forming properties, high gloss, abrasion resistance, folding resistance, water resistance, heat resistance, aging resistance, and economic health.

2 Composition of waterborne varnish

Water-based coating oil mainly consists of three main categories: main agent, solvent and functional additive.

1) The main agent. The main agent of water-based coating oil is a film-forming resin, which is a film-forming substance of the polishing agent and is usually a synthetic resin, which affects and dominates various physical functions and coating qualities of the film layer, such as glossiness and adhesion. Dryness, etc.

2) Solvents. The main role of the solvent is to dissolve, decompose or dilute the composite resin and various functional additives. Used to adjust the viscosity and drying properties of the varnish. The solvent of the environment-friendly water-based coating oil is water. Water has zero volatility, good leveling performance, and a wide range of sources. Colorless, non-toxic, odorless "green materials" cannot be compared with other solvents.

3) Functional additives. The role of functional auxiliaries is to improve the physicochemical properties and processing characteristics of aqueous varnishes. There are many kinds of additives, and they are generally added appropriately according to the method of using the coating. Use defoamers to control the bubbles of coating oil, solve the problems of fish eye, pinhole and other defects in the application of coating oil; use surface active agents to reduce the surface tension of aqueous solvents and improve leveling; use dispersants To improve the dispersion of the resin to prevent stickiness and improve wear resistance; to enhance the adhesion of the film-forming substance to the substrate with a coating film enhancer; to improve the folding endurance after coating with a plasticizer; Agent to make gloss gloss, transparency and strong.

3 Research Development of Waterborne Varnish

Today's research status, from the type of system, there are two kinds of water emulsion dispersion and water-soluble type; from the curing mechanism, there are three kinds of volatile drying, heat curing and photo-curing.

3.1 Aqueous emulsion dispersion type coating oil

3.1.1 Volatile Drying Aqueous Emulsion Varnish

Judging from the types of film-forming substances, there are mainly acrylics and styrene-butadiene latex.

1) Acrylic water-based emulsion varnish.
Conventional acrylic emulsions are prepared using a single-phase polymerization process. With the introduction of St, the gloss of acrylic coatings can be improved and the cost can be reduced. Dimethylamino methacrylate-MMA-St ternary copolymerized styrene-acrylic emulsion (Tg95°C) developed by Ooshita and Yanajida was coated with 10μ and dried at 80°C to obtain a glazing layer, which was abrasion-resistant, anti-adhesion, and gloss of 68%. The fit (tape stripping test) is high. The introduction of St, to a certain extent, reduces the weathering and aging resistance of the coating film on the product. The a-MS has higher gloss and weather resistance due to the absence of the oxidizable-H group in the molecular structure, but its cost is increased. Fujiwara, etc. from the St80, a-MSl0, MMAl0, MAA milk to produce a particle size of 75mm, solids content of 39% of the latex, in particular after coating 75 ° reflection gloss 70.2%. The MMA-a-MS-St emulsion varnish developed by Kano et al. was calendered at 92°C and had a glossiness of 88.6% at 75°.

In order to improve the mechanical and thermal properties of thermoplastic acrylate dispersions, multi-step polymerization and design of polymeric Microcrores are used to form core/shell acrylate emulsions. Li Liangxun and Lu Shanzhen developed core/shell St/BA waterproof rubber latex with semi-continuous method of self-seeded seeds. After adding coating additives, the film formation temperature was o~5°C. Under the action of ammonium persulfate-ferrous iron salt and the helper reductant s, TW et al. developed the St/BA emulsion, and compared the emulsion performance under thermal initiation and redox initiation. The results showed that the core/shell emulsion copolymers prepared by redox initiation method had a tensile strength of 5.0 MPa, an elongation at break of 36%, a viscosity of 60 (coating—4 cups, s), good leveling property, and transparent film formation. , bright and flexible, and the emulsion made by thermal initiation method, the tensile strength is only 3.6MPa, the elongation at break is 29%, the viscosity is 27 (coating - 4 cups, s), the phenomenon of hanging flow, and the film is not transparent , yellow, poor toughness. The core/shell styrene-acrylic emulsion developed by Hahn and Heaps can be used to polish products.

2) SBR latex paint.
The advantage of styrene-butadiene rubber for paper is that it has low viscosity, good adhesiveness, soft and moderate coating film, smooth and bright, and low cost. It was used in many countries at an early stage. However, the presence of unsaturated bonds in styrene-butadiene latex makes it susceptible to yellowing and aging due to the effects of light and heat, and its outdoor durability is poor, thus limiting its further development. In practice, copolymerization of carboxyl monomers and/or nitrile monomers is often used to modify the paper glazing process. This type of coating oil is mainly divided into four kinds of styrene butadiene latex, carboxylated styrene butadiene latex, nitrile latex, carboxylated nitrile latex.

Styrene-butadiene latex is often added with a thickening agent in the varnish. The thickeners added include ethyl hydroxyethyl cellulose, starch, rosin, rosin derivatives, etc., EA-MMA-polyethylene glycol (2-propene- 4 - mercapto) phenyl ether can also be used as a thickening agent; stripping agent is generally fatty acid metal salts, such as aluminum phosphate; paraffin wax in the product as a slip agent and anti-wear agent; Nishikawa first with kaolin, Paper coated with CaCO3, oxidized starch, SBR, epoxy resin, etc., had a gloss of 65% and was coated with an acid salt of 2.0% Al2(So4)3?18H2O with a gloss of 94.1%. The introduction of carboxyl groups can increase the water retention performance, provide stable shearing, are less prone to scratches and streaks, and have high bond strength and good water resistance. Yan Jinhua, Chen Kefu The nitrogen-driven high-pressure capillary viscometer was used to study the flow of paper coating oil on paper with oxidized starch and carboxylated styrene-butadiene latex as base material under high shear rate. The performance of nitrile latex and carboxylated acrylonitrile latex is similar to that of carboxylated styrene-butadiene latex, and the coating film strength is better.
EASY & CONVENIENT: Easy to use and convenient to bring with small size.

HIGH QUALITY: Offer high quality products with popular design and brand new look

ONE for EVERYONE: Necessary nail art tools for buffering and sanding.

MULUSAGE: Magic Nail Buffer Can be Used to File Natural Nails, False Nails, Nail Extensions, etc.

CONSIDERATE DESIGN: Colorful surface and considerate design for nail polishing.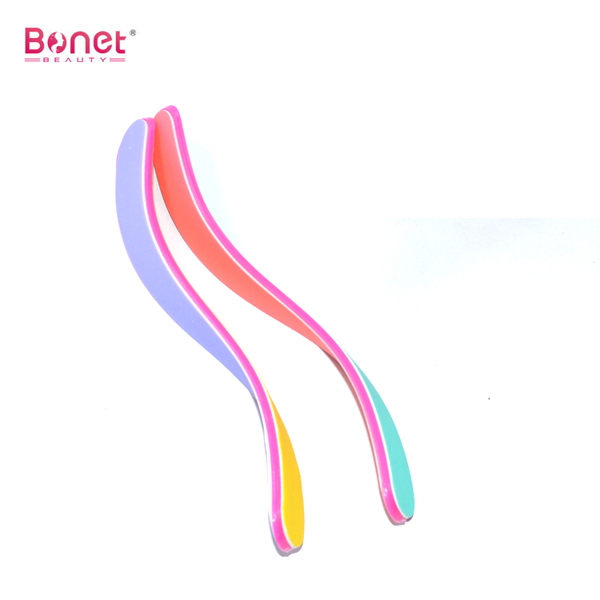 Magic Nail Buffer
Magic Nail Buffer,Magic Printed Nail Buffer,Nail Buffer Magic Buffer,Professional Magic Nail Buffer
Bonet Houseware Co., Ltd. , http://www.manicureset.de