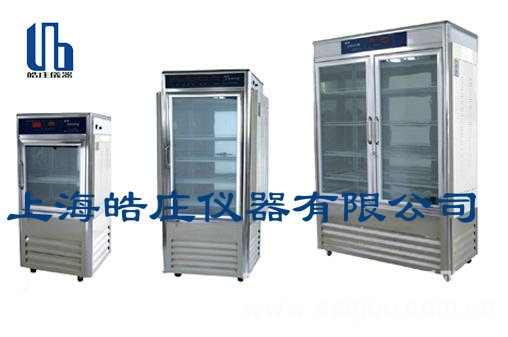 Shanghai Haozhuang Instrument Co., Ltd. has developed the LNB brand artificial climate box, which is energy-saving and environmentally friendly, leading the country. Professional manufacturing is more secure and affordable.
Scope of application: Microbial, tissue cell culture, seed germination, nursery, and insect, small animal feeding and other control features: ◆ The latest design of dynamic constant temperature and constant humidity control system, precise control of temperature and humidity throughout the range, the best constant temperature fluctuation reaches ± 0.5 ℃, humidity fluctuation is less than ± 8% RH.
â—† Arbitrarily programmed temperature, humidity and light program control to form a local microclimate environment. Long-term memory of block program data, the program operation is interrupted unexpectedly due to power failure or other reasons, and the program will continue to execute automatically after power is restored, fully ensuring the continuity of the experimental work.
â—† Temperature and humidity correction, temperature sensor abnormal protection and alarm, high temperature protection and low temperature alarm, power failure automatic recovery, program data memory â—† touch-type high-brightness multi-function operation display panel, clearly display cabinet temperature, humidity, light, program running data And other instruments working state, easy to operate.
Features of the equipment: â—† Specially designed air duct type circulation ventilation method to ensure uniform wind and temperature distribution inside the studio, and will not blow plant seedlings or blow light and thin items. â—† Vertical polygonal box structure, beautiful and elegant. The fully enclosed and 16-level arbitrarily adjustable three-sided lighting system ensures that the light intensity meets the experimental requirements and ensures that the light is not affected by external natural light. The unique light box design has good heat dissipation, reducing the impact of light on the temperature of the box body to a minimum. â—† Over-temperature protection, temperature sensor abnormal protection, automatic recovery after power failure, etc., absolutely guarantee the safety of the instrument and experiment. â—† Double-layer hollow glass door structure and polyurethane insulation layer ensure excellent absolute thermal insulation performance, good light transmittance, in line with the characteristics of beauty, cleanliness, convenience and practicality. The movable shelf can adjust the storage space at will. The inclined base plate with arc angle is beneficial to the collection and discharge of clean and condensed water.
Shanghai Haozhuang Instrument Co., Ltd. is a variety of biochemical, light incubator, shaking incubator, constant temperature incubator, mold incubator, hot and cold cycler, shaker, oscillator, stirrer, water bath, centrifuge, electric heating plate. Professional manufacturing enterprise. The company integrates R & D, production and sales of high-tech laboratory instruments. We sincerely welcome new and old customers to patronize, develop together and create brilliant! Look forward to your visit and purchase! Relying on modern science and technology, the company continuously improves product quality and launches new products to keep it up to the international level. The products are exported to all parts of the country, and have won the trust of users with excellent quality and perfect service. The employees of the company have always pursued the enterprise spirit of "unity, truth-seeking and innovation". With the tenet of "user first, quality first, reputation first", the company's main business and production scope include: testing instruments, laboratory equipment, cleaning equipment , Environmental protection equipment and undertake the design and customization of non-standard products, etc. and provide related technical services. Welcome your inquiry and purchase!
With technology advancement, non-touch Veterinary Thermometer have become widely popular. Non-touch thermometers mean that there is nothing to insert inside the dog`s ear, mouth or rectum. Everything happens at a distance. Unlike ear thermometers, you don`t have to insert this thermometer inside the ear canal.Instead, it operates using infrared radiations. These non-touch thermometers are easy to use, faster and very much reliable.

Clinical Pet Thermometer measures the temperature of your pooch and gives you accurate results in seconds. Your pooch would feel nothing as the device has an ultra-fast detection ability and an excellent design suited for pets` ears. You could see the result in the dark as it features a backlight to enhance reading.
Veterinary Thermometer
Veterinary Thermometer,Veterinary Infrared Thermometer,Animal Thermometer For Pet,Veterinary Clinical Thermometer
Xi'an Lonn M&E Equipment Co., Ltd. , https://www.smartmeasurer.com